Player Profiles
Michael Nicholas Erlank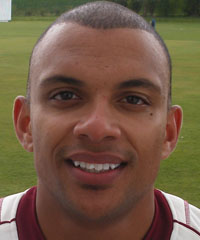 Michael Erlank
©Nigel Stockley

Date of birth: 4th July 1990
Place of birth: Kimberley, Cape Province, South Africa
Current club: Accrington
Batting style: Left-hand batsman
Bowling style: Right-arm off-break

Profile:
Accrington have signed Michael Erlank as professional for the 2017 season. Michael is a 26 year old left-hand bat and right-arm off break bowler who plays for Free State and the Knights franchise. He had a season at Ribblesdale Wanderers in 2012 and has since completed his studies.

Accrington Committee Member Jimmy Hayhurst said: "We are very pleased to sign Michael and feel he's just what we are looking for going forward. He plays in all formats in South Africa and is a top order batsman in both First class, one day and t20 cricket. He is also an experienced coach.

"We would like to place on record our thanks to departing professional Ockert Erasmus who has been a fantastic Pro on and off the field over the last three seasons and we wish him all the best for the future.

"Also we would like to thank Gary Hunt of CricIntro for assisting us in signing Michael and making it a swift and pleasant experience ."
Other recent Accrington professionals

Ockert Erasmus
Ashar Zaidi
Will Driver
Roy Silva
Nishit Shetty
Tama Canning
Andre Seymore
Nathan Astle
Shane Warne