Player Profiles
Ockert Erasmus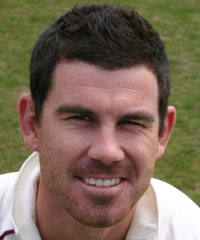 Ockert Erasmus
©Nigel Stockley
Date of birth: 20th January 1988
Place of birth: Ladysmith, Natal, South Africa
Current club: Accrington
Batting style: Right hand batsman
Bowling style: Right arm off-break

Profile:
Ockert had three seasons as Accrington professional boasting an ever present record for the club in scoring 2659 runs at 50.2 with three centuries and nineteen half centuries, and in taking 185 wickets at 16.3.
Ockert achieved two league bests during the 2016 season but overall it was a season of disappointment with a total of 624 runs at 31.2 with an unbeaten 112 in his final innings for the club against his former club East Lancs the highlight. Ockert's career best bowling figures of 8-21 against Bacup were the best of the season by any bowler. In all he took 45 wickets at 17.0 in his last season at Thorneyholme Road.

In 2015 Erasmus became the thirteenth Accrington professional to reach 1,000 runs in a season, making 1058 at 62.2 with two centuries and nine half centuries. Only Bobby Simpson (103.1), Ken Archer (93.0) and Eddie Barlow (62.5) had a better career average than Erasmus (61.7) of the club's regular professionals at this point. Erasmus also took 70 wickets at 15.5 with five five wicket hauls, including 7-46 at Rawtenstall. Of the fourteen matches that Accrington won, professional Ockert Erasmus made a major contribution with the bat in nine of them, averaging 81.7 in making 735 of his total runs.

Accrington signed Ockert Erasmus as their professional for the 2014 season. In his first season at the club Erasmus had his most productive season with the bat, scoring 977 runs at 61.1 with eight half centuries. Ten of his 26 innings were unbeaten. Erasmus also took 70 wickets at 16.6 with six five wicket hauls. In all matches he scored 1211 runs at 57.7 and he took 83 wickets at 15.7.
Ockert had three seasons at East Lancs after signing for the club from Boland as professional in 2011 season. The off spinning all rounder had a good first season in 2011 with 627 runs at 33.0 and 74 wickets at 19.5. He hit seven half centuries and took five wickets in an innings eight times to earn second season in 2012.

In 2012, the South African all rounder hit 489 runs at 28.4 with three half centuries and he also took 58 wickets at 13.9 in his dual role as captain and professional. Erasmus also played a leading role in taking East Lancs to the semi finals of the Worsley Cup taking 5-21 including a hat-trick in the epic 2nd Round tie with Enfield.

The club re-signed Ockert as professional for a third season in 2013 after he made another good impression during 2012. The following season, 2013 was Ockert's most productive season with the bat hitting 860 runs at 45.3, including a maiden league century, an unbeaten 110 at Todmorden and seven half centuries. He also took 55 wickets at 18.3 and again captained the side.