Player Profiles
Roy Silva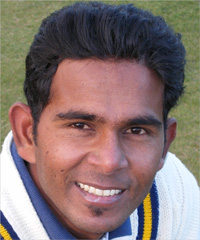 Roy Silva
©Nigel Stockley
Date of birth: 9th May 1980
Place of birth: Balapitiya, Sri Lanka
Current club: Accrington
Batting style: Right handed early order
Bowling style: Right arm medium pace

Profile:
Accrington signed all rounder Roy Silva as their professional for the 2008 season. Little did Silva or the club know at the time that he would go on to play an integral role in the most amazing season in Accrington's long history as the side scooped the league and cup double for the first time ever.
Silva took some time to settle after missing the opening match due to a chest infection. He made his mark initially with the ball, destroying Rawtenstall with 6-27 as the league leaders were rolled over for just 48 to end a 20 match unbeaten run. The Sri Lankan notched his first league half century in his next innings against Enfield. His total of 589 league runs included one century and four half centuries. In all matches he scored 736 runs at 32.0 with a top score of 111 in the Worsley Cup Final which was the highest innings in a limited overs final by a professional in the team's record score of 290-6. Silva picked up 27 league wickets at 22.4 and 6 more in the cup.
The Sri Lankan played for Moors Sports Club back home and he was highly recommended by his agent Gary Hunt and two of his team-mates who are familiar names in league circles, his captain the former Church professional Ruvin Peiris and Ashton paid man Anil Rideegammanagedera.
Kumbo Roy Prasanga Silva has scored 2063 runs at 24.8 since making his debut for Sri Lanka Air Force Sports Club in 2001 with a top score of 171. Last season the right hander opened the batting for his club but the opportunities to bowl his right arm medium pace were more limited, yielding just 2 of his 72 First-class wickets. Silva's best bowling is 7-41 and he has scored three First-class hundreds and eight half centuries in 56 matches.
Silva, who was the first Sri Lankan professional in the club's 162 year history, signed a contract to return in 2009.
Silva's second and final season at Accrington wasn't as successful for the Sri Lankan in terms of runs and wickets, but the club retained the title for the first time in 93 seasons on an incredible final day at Lowerhouse. Silva scored 356 runs at a disappointing 17.8 with a top score of 48 against Bacup. He picked up 31 wickets at 23.9 with a best of 4-44 in his last match for the club at Lowerhouse.
List of matches played on database
LANCASHIRE LEAGUE RECORD
| | | | | | | | | | | | | |
| --- | --- | --- | --- | --- | --- | --- | --- | --- | --- | --- | --- | --- |
| Club | Season | Inns | N.O | H.S. | Runs | Av | | Overs | Mdns | Runs | Wkts | Av |
| Accrington | 2008 | 22 | 2 | 108 | 589 | 29.4 | | 184.2 | 32 | 606 | 27 | 22.4 |
| Accrington | 2009 | 21 | 1 | 48 | 356 | 17.8 | | 221.2 | 38 | 742 | 31 | 23.9 |
| | | 43 | 3 | 108 | 945 | 23.6 | | 405.4 | 70 | 1348 | 58 | 23.2 |