Accrington Under 15s Page 2003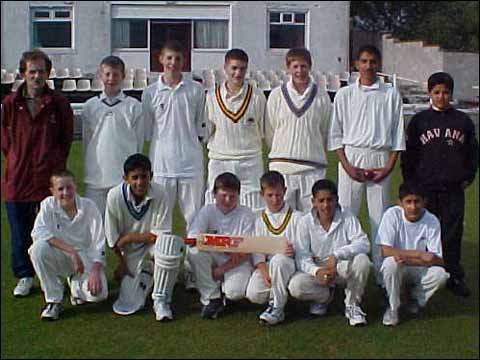 Anything you want to see on this page? Let me know
Wednesday August 6th
ACCRINGTON v LONGRIDGE 15s
Andrew Greenwood won the toss in an 18 over match on a dull night and opted to bat first. After 4 overs we were only 15 and lost the first wicket to (hit your pads and you are out donnelly). The capt now back in the pavillion. Out strides (I dont run ones Hussain). Now things got moving. After 10 overs we had increased the score to 37 when we lost 2 quick wkts to the new bowler. Andrew (lets try and hit everything) Thompson was out for 23. In to the wkt comes Richard (no bones) Williams. Fired by our umpire again lbw second ball for 0. In to the wkt arrives Waqas (never stop smiling) Ahmed. We manage to get the score up to 103 when Sag was out last ball on 44 going for the big one, missed out bowled. Waqas finished 20 not out.
Longridge started well not losing their first wkt till the 7th over on 34. After 10 overs they were 54 and coasting. The young lads in the team showed the older ones how to field with two good catches by Aamir Khan and Sajjid Khan. With two overs to go young Sajjid had to bowl the 17th over with Longridge only needing 11 to win. What a good over with one leg bye, two dots, a wkt, a bye and a four, now they wanted 5 off the last over with non bowler Richard Williams taking the ball. Dot, dot leg bye, 4 to win 3 balls left, dot, one, last ball three to win two to tie. All the players on the edge, they only get a one Accrington win. Well done lads.
Richard Williams 3 over 0 maids 2 wkts 7 runs
Sag Hussain 4 overs o maids 1 wkt 13 runs
Sajjid Khan 1 over 1 wkt 4 runs
Waqas Ahmed 4 overs 1 wkt 26 runs

Wednesday June 25th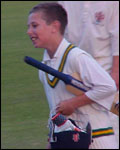 Last over hero Simon Hanson leaves the field in triumph
The Under 15s won a last over thriller against Rawtenstall. Were you there? Tell us about it
Accrington captain Andrew Thompson won the toss and asked Rawtenstall to bat, with Accrington bowling attack restricting Rawtenstall to 52 for 6. After 13 overs two of the Rawtenstall batsmen rescued the score making a total of 91 for 6 off 20 overs, Sagawat Hussain bowling well finishing with figures of 4 overs 3 wkts 14 runs, The economical Andrew Thompson bowled with no luck finishing with o wkts 8 runs. Waqas, David and Simon each picked up a wkt. With a low total to chase, Accrington floundered losing wkts cheaply, but after 13 overs Accrington were 60 for 5. A fine partnership by Matthew Donnelly hitting 20 and Simon Hanson 13 put Accrington back in the match. On 89 in the 19 over, Matthew was caught at point trying to finish of the game with a four. Last over 3 to win, in strides David Cronshaw, Simon on strike one off the first ball, David plays and misses, dot ball, 2 to win a quickly scampered one scores tied. Three balls to go, 1 to win. Simon pulls the bowler for 4 to the leg side boundary... the crowd go wild...Accrington win. Well done lads a great finish.


Wednesday June 18th
Longridge batted first. The only bowling of note was Andrew Thompson 4 overs 3 wkts 11 runs out of a total of 102 for 5 in 16 overs. The other three took stick. Accrington chasing reached 79 for 7 of 16 overs Sagawat Hussain scored 23. Another loss for Accrington 15's.

Wednesday June 11th
Accrington v Nelson Home 20 over match
Nelson batted first and got off to a great start. After 7 overs they were 48 runs then there was some fine bowling by David Cronshaw and Matthew Donnelly but we couldn't get any wkts, but the run rate slowed down. Nelson finished on 105 for 2 David Cronshaw 4 overs 0 wkts 9 runs
Waqas Ahmed 4 overs 1 wkt 22 runs.
Accrington got off to a slow start. After 7 overs we were 27 for 2. It was now the scoring picked up. Waqas Ahmed came in he tried to improve the run rate, but for some fine bowling and fielding we might have done it. We finished 16 short. Waqas finished on 37 not out. Accrington 90 for 4 Nelson 105 for 2 Nelson win.

Wednesday June 4th
Tonights Under 15s game against Church was abandoned. Accrington batted first on a wet soggy night. Andrew Greenwood opened with Waqas Ahmed. We were 26 for 1 4 overs and after 6 overs the score moved to 37 for 2. Richard Williams came to the wicket with Andrew Greenwood and took the total to 96 from 16 overs. Then the heavens opened and the game was washed out. Hopfully we can rearrange it. Richard Williams 29 not out, Andrew Greenwood 38 not out.
Friday May 30th
Accrington v Darwen away. Darwen batted first against a very young 15's side. Darwen made 77 off 16 overs.
Waqas Ahmed 4 overs 4 wkts 29 runs
Simon Hanson 4 overs 1 maiden 2 wkts 14 runs.
Accrington were now chasing a gettable score, they all tried but finished on 69 for 6. Darwen win.


Wednesday May 28th
The Under 15s beat Burnley 15's by 9 wickets
Burnley won the toss and decided to bat in a 20 over match. After 5 overs they were 5 wkts for 2 runs - a great start. Andrew Thompson and Sagawat Hussain both picked up a wkt in their first overs and there was a run out in Sagawat's first over. After four overs there was a bowling change. Matthew Donnelly took over from Andrew which included two caught and bowled, the first catch, he jumped and dived to his right at one time he must have been 10 ft in the air, the second was straight back at him. Then there was a partnership of 19 until there was another change of bowling. Waqas Ahmed picked up two quick wkts. Matthew picked up a wkt on his last ball to finish with figures of 4 overs 3 wkts 10 runs. Next up was David Cronshaw with his little away swingers backed up with the deadly in ducker, which gave him figures of 4 overs 2 maidens 1 wkt 6 runs. Andrew Thomson bowled the last over to get the last wkt, but to no avail a maiden. Burnley finished 38 for 9
A. Thomson 4 overs 2 maidens 1 wkt 2 runs
S. Hussain 4 overs 1 maiden 1 wkt 4 runs
W. Ahmed 4 overs 1 maiden 2 wkts 7 runs
Accrington's turn to bat needing 39 to win. Opening the batting was Andrew Greenwood and Simon Hanson, Simon was out for 2 which brought to the wkt James (flashing blade) Ormerod who took us on to a fine win ably supported by the captain Andrew Greenwood 14 not out
Thursday May 8th
The Under 15s lost at home to Colne in the ECB Cup. Colne made 85-3 off 16 overs with Andy Thompson taking 2-8. In reply, Accrington were 78-4. Sagawat Hussain hit 20 and Waqas Ahmed an unbeaten 19.
Wednesday April 23rd
The Under 15 beat East Lancs in the ECB Cup. Accrington won the toss and batted first. Andy Thompson hit 53 and Andy Greenwood batted through for an unbeaten 26 in Accrington's 123-1 in 16 overs. East Lancs made 107-2 with Andy Thompson taking 1-26 and David Cronshaw 1-24. Accrington now play Colne at home before May 4th in the next round.