Accrington Under 13s Page 2003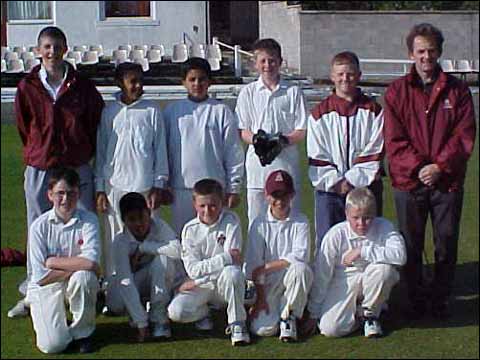 Anything you want to see on this page? Let me know

Friday June 20th
At last Accrington 13's finaly get off to winning ways against local rivals Enfield at Enfield. Enfield batted first. Accrington improved in all departments bowling was better, fielding was greatly improved and the batting was out standing. Running between the wickets still needs some work.
Enfield scored 61 losing 5 wkts grand total 221
S. Hanson 3 ov 1wkt 9 runs
W. Khan 2 ov 1 wkt 4 runs
P. Green 2 ov 1 wkt 2 runs
S. Khan 3 ov 1 wkt 11 runs
Aaccringto's opening pair scored 22 between them but lost a wkt each. The next pair put us into a commanding position scoring 35 btween them, Waqar Khan scoring 27 out once. It then became easy for the next four batsmen.
Simon Hanson 14 no,
Jonathan Duckett 7 no
Matt Schofield 18 no
Accrington scored 115 losing 4 wktS grand total 283.
Accrington win well done lads. It was also great to see Accrington 13's well supported, well done parents family and friends.

Friday June 6th
Accrington v Darwen 13s
Accrington batted first scoring 67 for 8 wkts, grand total 203 Darwen scored 121 for 3 grand total 297. Bit of a one sided match Simon Hanson 13 out 1 Waqar Khan 11 out 1 Matthew Schofield 10 not out
Jonathan Hayhurst 2 wkts 15 runs Aamir Khan 1 wkt 16 runs. Accrington lost

Friday May 23rd
The Under 13s lost at home to Nelson. Accrington fielded first. We got off to a great start claiming 3 wkts in the first 4 overs keeping the opposition to around the 200 score, then they rallied taking the score up to 231. Accrington came with some fine fielding from Jonathan Hayhurst and Aamir Khan and bowling from Simon Hanson who finished with figures off 3 overs 2 wkts 8 runs, followed up by Jonathan Hayhurst 2 overs 2wkts 16 runs, Josh Armstrong 2 overs 1 wkt 6 runs and Aamir Khan 2 overs 1 wkt 4 runs. When their ininings finished, Accrington only needed to get 210 to win. What a disaster !!! We lost 10 wkts scoring 61 runs, grand total 181, lost by 28 runs. We will be better next time. Mark Williams 13 runs out once, Simon Hanson 13 runs out once.

Monday April 28th
The Under 13s are out of the ECB Cup. Accrington made 78- 5 off 16 overs but Colne replied with 80 for 3 off 12 overs. Mark Williams scored 27 (retired) and Waqar Khan 14 not out. Phillip Green took 1-14, Jonathan Duckett 1 -9 and Matt Schofield 1-11.
Tuesday April 15th
The Under 13s beat Lowerhouse in a cup match. Simon Hanson hit a superb unbeaten 25. The team will play at Colne on Friday April 25th in the next round.