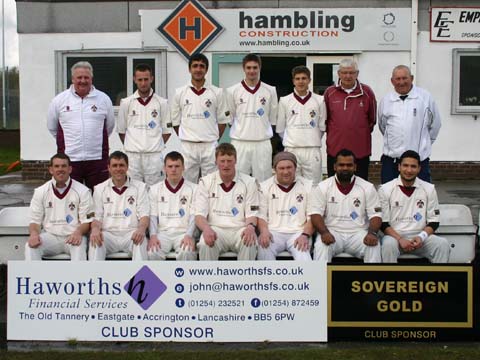 Accrington 1st XI 2012


©Nigel Stockley

Rain delayed the start of all the games.
The match at Centre Vale was won by third placed Todmorden who beat fifth placed Accrington by 6 wickets in a 22 overs a-side game. Stuart Crabtree top scored with 28, Marley Ali made an unbeaten 26, Andy Greenwood 25 and Aijaz Shah 14 as the visitors were restricted to 106-8 by Todmorden spinners Qaiser Abbas (4-57) and Paul Senior (2-48). The home professional Abbas then hit 48 from 34 balls with six fours, adding 63 with Ben Sutcliffe (18). Skipper Andrew Sutcliffe saw his side home with an unbeaten 24. Jimmy Hayhurst took 3-62 for Accrington. Todmorden won for the 13th time, the most by any club to date.