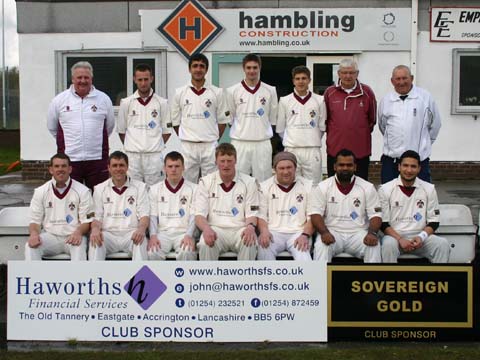 Accrington 1st XI 2012


©Nigel Stockley

Burnley's second win in a row spelled a second successive defeat for Accrington. New Accrington captain Graham Lloyd chose to bat but his side were bowled out for just 85 at Turf Moor. Numbers three, four and five made double figures with professional Ashar Zaidi making 19, Aijaz Shah 16 and Stuart Crabtree 15 but no-one else could match them. Burnley professional Adnan Rasool took 6-23 to pass 50 wickets for the season, including 42 year-old debutante Kevin Wood amongst his victims. Accrington fought back with Zaidi taking 5-37 but Burnley got home by 2 wickets. Skipper Bharat Tripathi made 22, Michael Kelly 20 and Rasool and Graham Lalor were both unbeaten on 10 as the home side claimed maximum points.
Ramsbottom thrashed Accrington at Thorneyholme Road in the Junior Cup semi final. Ramsbottom made 264-8 and then bowled Accrington out for 74.