Accrington
ended 22 barren years without a trophy by lifting the Get Solutions Worsley Cup for the fourth time with an emphatic 104 run win at
Todmorden.
Send us your thoughts on this fantastic day
Accrington's Toby Bulcock was named 'Man of the match' for a superb all round performance that saw him hit an unbeaten 39, take the vital catch to dismiss Todmorden dangerman Gulam Bodi and pick up 4-35 from his 8 over spell.
After being put in to bat on a flat Centre Vale pitch Accrington compiled a massive 290-6 which is the highest score in a limited overs Worsley Cup Final and also Accrington's highest ever score in the competition.
The final always makes stars of unsung heroes and this season's was no exception but it was an unusual one in the form of Accrington professional Roy Silva who hit a brilliant 111. The Sri Lankan has often looked a forlorn figure but he has grown in confidence since his maiden league century at Rishton two weeks ago. After a typically nervous start he blossomed in stands of 45 with Stuart Crabtree, 119 with Graham Lloyd and 67 with Toby Bulcock. Silva's innings was the highest by a professional in a limited overs final.
The Accrington openers didn't hang around for long with Matt Wilson trapped lbw by Mo Bux in the 3rd over and Paul Carroll steering John Campbell, who had come in as a late replacement for the injured Stuart Priestley, into the hands of Andrew Sutcliffe at slip. Just as he had done in the league game at Centre Vale, Crabtree got off the mark by lofting Bux for a straight six as he and Graeme Sneddon began to rebuild the innings.
At the end of the 10th over Accrington were 27-2. Two boundaries by Crabtree in the 12th over lifted the scoring rate and led to the introduction of James Morgan in place of Campbell in the 14th over. In between lbw appeals, Sneddon squeezed the ball to the point boundary but the second shout was answered in the affirmative by umpire Lawrence Crook and an unhappy Sneddon was on his way back after making 13.
Enter Roy Silva and the Accrington paid man was on his way after hitting a single off his first ball from Bux. Crabtree and Silva continued to chip away and after 20 overs the visitors were 70-3 with honours even. Todmorden skipper Jon Henderson introduced himself into the attack and Silva welcomed him with a straight driven four. The second maiden of the match was bowled by Morgan in the 22nd over.
Todmorden captured a 4th Accrington wicket in the 26th over when Crabtree was well held by Gulam Bodi after a good knock of 41 which contained four fours and a six.
The match now entered a critical phase with Graham Lloyd joining Silva at the crease. Lloyd got under way immediately with a single off Morgan. The 100 came up off the same bowler two overs later when Silva steered the ball through square leg for four.
The introduction of Todmorden professional Bodi into the attack was another pivotal moment in the match. The slow left armer conceded 16 runs in his first over as Lloyd reverse swept his first ball for his first boundary and then cut his second for another. Silva joined in the fun later in the same over with another boundary to lift the total to 132-4 after 31 overs. Henderson kept faith with his professional and he should have been repaid but Silva was dropped on 46. The Sri Lankan brought up his half century in the next over, the first bowled by Andrew Sutcliffe.
Lloyd employed the reverse sweep to good effect again in Bodi's next over and Silva brought up the 150 in Sutcliffe's next over. Like his father before him Lloyd knows when to make a half century and he earned himself his second collection of the weekend in the 42nd over, bringing up the 200 later in the same over. The former Lancashire man was out in Henderson's next over when he skied the ball to Andrew Sutcliffe at cover after making 59. His innings contained seven fours, four of which were reverse swept, from the 64 balls he faced.
Silva offered a sharp return catch in the next over bowled by the returning Campbell on 77 and celebrated with a huge six. Bulcock then tore into Henderson, hitting the home skipper for successive boundaries and a huge six as 17 came off the over.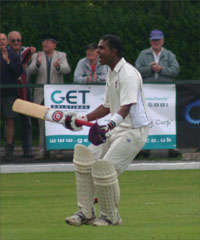 Roy celebrates his ton
©Nigel Stockley
Another six and a two off Campbell took Silva to a well deserved century in the 46th over as the 250 came up. Silva helped himself to another six off Bodi and then Bulcock was dropped off Campbell. Silva's fine innings ended in the penultimate over when he was bowled by Andrew Sutcliffe for 111. Silva hit ten fours and three sixes in his 107 ball knock. Bulcock added yet another six off Campbell's final over as the innings closed on a record breaking 290-6. Bulcock finished unbeaten on 39 from just 22 balls with three fours and two sixes.
Send us your thoughts on this fantastic day
The home side needed good start and they got one with Simon Newbitt and Ben Sutcliffe batting untroubled as Accrington skipper David Ormerod rotated his six pronged attack. Accrington's plan to nullify Newbitt's scoring strengths worked a treat as the powerful left hander spent 5 overs stuck on 7 as Ormerod reeled off four successive maidens. Newbitt finally broke free of his shackles as Todmorden brought up the 50 in the 15th over. Zahir Afzal and Damian Clarke replaced opening bowlers Silva and Ormerod and then Carroll replaced Afzal after the medium pacer had 11 taken off his 3rd over by Ben Sutcliffe.
The Todmorden openers brought up the 100 in the 25th over but Newbitt's innings ended when he was bowled by Carroll off the final ball for 34. Crowd trouble momentarily distracted the players but Todmorden professional Bodi was soon into his stride, sweeping carroll to the boundary. Ben Sutcliffe brought up his half century in Ormerod's next over and Bodi found the boundary again as Todmorden cruised to 116-1 after 28 overs. Disaster struck in the next over when Bodi tried another ambitious sweep off Carroll and was well caught on the mid wicket boundary by Bulcock for 13.
Bulcock was introduced into the attack in the next over and quickly sent back Tom Marsh without scoring. Ben Sutcliffe followed in the spinners next over after making 55 which included five boundaries from the 95 balls he faced. Todmorden now faced an uphill task at 128-4 in the 32nd over, needing 163 from 18 overs with the top order back in the tent.
Andrew Sutcliffe's busy innings ended when he was stumped by Wilson off Carroll for 11. Mark Clayton brought up the 150 in the 38th over but lost his skipper to a fine running catch by Simon Hanson to give Bulcock his third wicket.
Silva returned to remove Mo Bux without scoring as Todmorden slipped to 158-7. Clayton became Bulcock's fourth victim after having scored 13 and Danny Brown presented Hanson with another chance to demonstrate his catching ability. The last pair Morgan and Campbell hung around for 4 overs but Accrington would not be denied as Wilson caught Morgan to give Accrington veteran Clarke his first wicket of the final and his first senior trophy as Todmorden were bowled out for 186 to end Accrington's long long wait.