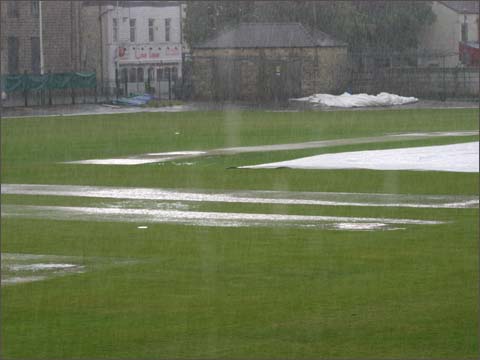 Down came the rain and wahed the match away
©Nigel Stockley
More Pics
Heavy showers disrupted Sunday's play again with only two games being played to a finish. The top of the table clash between Rawtenstall and Accrington was one of the five matches that will now be replayed on Saturday September 6th.
The top match at Bacup Road was rained off with Rawtenstall on 60-2 off 17-.2 overs. After a delayed start Accrington professional Roy Silva quickly removed Chris Cook-Martin via a diving catch by wicketkeeper Matt Wilson for 2. Skipper David Ormerod then clean bowled home professional Nathan McCullum for 10 but skipper Andy Payne was unmoved on 30 when a heavy shower ended play for the afternoon.