Accrington 83-7, Todmorden 81
Wednesday July 19th 1961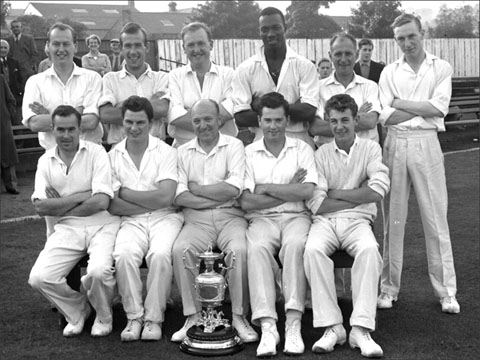 Accrington 1961 Champions


©Garth Dawson
This match was billed as the Hurricane against the Typhoon with rival pacemen Wes Hurricane Hall and Frank Typhoon Tyson locking horns in a mid week thriller at Thorneyholme Road.
Wes Hall was in irresistible form taking 8-44 to dismiss Todmorden for just 81. All Accrington had to do now was negotiate the Typhoon and to do so they sent in Hurricane Hall with Derek Rushton. After leading a charmed life, Hall was finally yorked by Tyson for 21.
Martin Welbourne and Eric Foster followed in successive balls as Tyson completed his hat-trick. Skipper Lindon Dewhurst was next to go after surviving the next two balls but he too departed in identical fashion as four wickets fell in six balls at 31.
Frank Rushton and Brian Rutter both fell seven runs later to Bobby Marshall also without scoring and Accrington were 38-6. Derek Rushton though was still there and at last he found an ally in Russ Cuddihy.
The Typhoon was finally blown out after bowling seven overs as Derek and Russ put on a match winning 37 before the latter fell to Brian Whittaker for 16 with just 7 needed. Derek finished with a superb unbeaten 34 as he and Eddie Robinson saw Accrington to a priceless 3 wicket victory. Scorecard