Accrington 163-8 v Church 50
Saturday May 27th 1961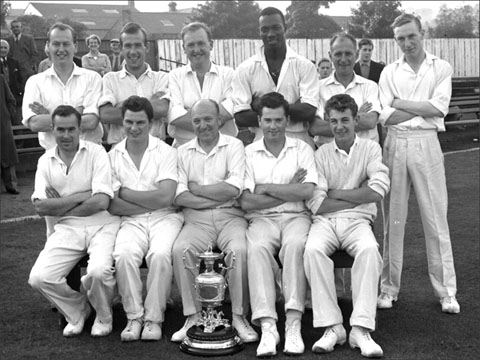 Accrington 1961 Champions


©Garth Dawson
The last match in May was Accrington's fourth win against the other Hyndburn sides in a remarkable eight day period.
Professional Wes Hall destroyed Church by taking 8-30, knocking the stumps over on six occasions. Jim Eland took the wicket of Tommy Yates and Barry Wilson was run out as the visitors were rolled over for just 50 with only veteran Syd Edmundson making double figures with 11.
Hall's outstanding spell took his total to 30 wickets in the four match sequence, giving him a total of 48 in the league and 54 including the Worsley Cup.
Church's sub professional Malcolm Hilton, standing in for the injured Chester Watson, removed both Rushton brothers and Alan Bourke cleaned up Jackie Hope to have Accrington struggling, but Hall (22) and skipper Lindon Dewhurst (43) knocked off the runs in just 40 minutes. Accrington then batted out time until 5.30 making 163-8 with Derek Mark making 49 and Brian Rutter an unbeaten 25.
The win over Church was significant for two reasons. It took the club to the top of the table and it also marked a treble with all three Accrington teams triumphing over their West End rivals on the same day. Scorecard