Church 133 v Accrington 50
Saturday June 17th 1961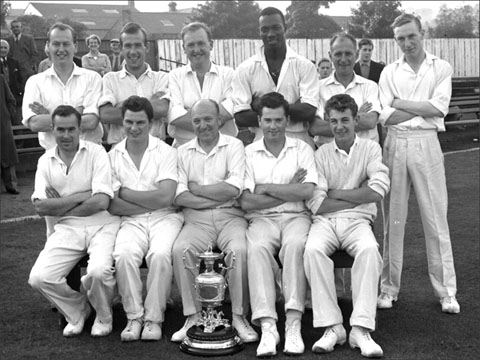 Accrington 1961 Champions


©Garth Dawson
Accrington's second defeat in three games was probably the low point in their championship winning season.
Being rolled over for 50 in a local derby is not a pleasant experience as Lindon Dewhurst's men were given a taste of their own medicine after doing the same to Church earlier in the season.
Sub professional Malcolm Hilton took 5-26 and skipper Alan Bourke 5-16 to wrap up a comprehensive 83 run win inside 20 overs. Derek Mark (10) was the only man to make double figures on a miserable day at West End.
Professional Wes Hall (4-82) and Eddie Robinson (4-27) had earlier taken four wickets apiece with Barry Wilson making 38, Jim Ready 22 not out, Syd Edmundson 19, wicketkeeper Bill Heys 15 and Geoff Briggs 14 in the home sides 133 all out. Scorecard