An Evening With Sir Wes Hall
Tuesday November 7th 2017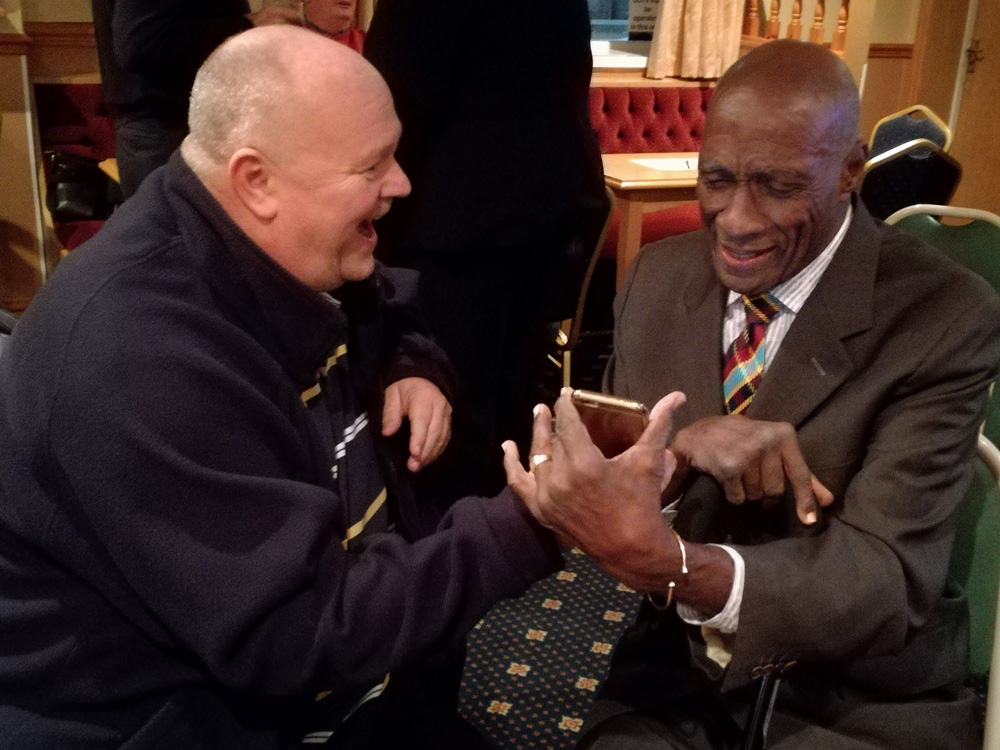 Len Meets Sir Wes
©Nigel Stockley
Sir Wes Hall made his first visit to the club for 26 years on a memorable evening.
The evening was organised by the Daily Mail and was hosted by the papers' Ian Herbert.
Wes arrived at the club at 4pm and was met by former team-mate Russ Cuddihy.
After a photo session on the field Russ took Wes to the home of his former opening partner Jim Eland who now suffers from Alzheimer's.
Wes returned to the club at 7pm with Guy Hewitt the High Commissioner of Barbados to the UK.
Former team-mates Brian Rutter, Bill Haworth and David Lloyd came along.
Enfield legends Jack Simmons and Eddie Slinger also appeared along with former Lancashire wicketkeeper Farokh Engineer.
The club's oldest member Ted Marshall, Wes' former bag man Alan Kennedy, ex committee men Alan Doherty and Peter Westwell and Len Dewhurst, son of Wes' former captain Linden also met up with the Great Man.
After a highly entertaining presentation by The Lancashire League Experience Project Manager Brian Heywood pie and peas were served before the main event.
Wes was joined on stage by Ian Herbert and David Lloyd for an hour of nostalgic entertainment.
Wes recalled being signed by Accrington Secretary George Wood.
David Lloyd remembered coming down to the nets at the club every day during the summer holidays and being looked after by Wes as a young player after graduating to the first team through the second and third teams.
David recalled going to his first Test match with Wes in a car driven by Roy Gilchrist.
Wes gave David his first cricket bat after returning from Australia - a Norman O'Neill Crocket.
Wes said he rated wicketkeeper Jack Collier so highly he was surprised that he wasn't selected for Lancashire, comparing him alongside Test stars such as Deryck Murray, Jackie Hendricks and Wally Grout.
Wes remembers every player he played alongside at the club between 1960 and 1962 but struggles to recount his days at Great Chell later in his career.
David introduced some members of the audience to Wes including Farokh Engineer and a man with a beard who looks like Jesus. This chap is also known as Dibber but no-one knows his real name although he has taken 1383 Lancashire League wickets.
David and Wes discussed Wes' two ten wicket hauls in 1962 against Bacup and Burnley.
In the match against Bacup Wes also opened the batting against Roy Gilchrist because the amateurs were apprehensive.
Players had a reputation of re-arranging their holidays to avoid playing against the likes of Wes, Gilchrist and Charlie Griffith.
David recalled being twelfth man for a match at Bacup when Gilchrist was professional. One of the players, Eric Foster, didn't turn up at the meeting place the Broadway where the players would travel to the match in a charabanc.
David stood at the gates at Lanehead waiting for Eric to come and he recalled one of the committee men either Alf Salthouse or Bert Taylor bringing him in a car much to his relief.
David remembered a football programme called When Saturday Comes, saying cricket is the same. You lived for Saturday so you can play against the best players.
Eddie Slinger said he had no fears of facing Wes because his action was a fair one.
Wes also recalled playing in two of the greatest Test matches of all time - the Tied Test in Australia in 1960 and the 2nd Test at Lords in 1963 when Colin Cowdrey returned to bat with a broken arm to help England save the match.
Wes promised to return to the club next June.
Accrington Secretary Mark Taylor said:"It was wonderful to hear Sir Wes speak so affectionately about his time at Accrington like it was only yesterday and we are grateful he was able to find the time to visit.
"Whilst at Accrington he made many friends for life and it was fantastic to see him reminiscing and renewing old friendships, most of whom he had not seen for nearly 30 years.
"I would like to thank Marc Padgett and Ian Herbert of the Daily Mail for helping to make the visit possible and also the Barbados High Commissioner Guy Hewitt for his support of the evening.
"Also thank you to everyone at the Club who helped to set the evening up at very short notice, especially Russ Cuddihy and Rod Kenyon.
"It's clear Accrington had a huge impact on both Sir Wes's life and his cricketing career and we hope he will be able to come back and see us again soon."