A Retirement Gift For Ian
Tuesday October 17th 2017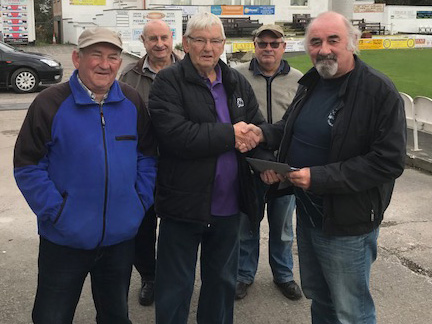 A gift for Ian
©James Hayhurst
Long serving Accrington Groundsman Ian McCrae was presented with gifts to mark his retirement at the club.
Ian, who retired in July, received a voucher for 2018 membership at Lancashire CCC along with a voucher for a meal for two at the Spread Eagle at Mellor.
Ian worked tirelessly for the club for the last 15 years often working on a shoestring budget to produce some good cricket wickets, calling in many favours over his time and saving the club lots of money with his practical ideas and a lot of favours.
Ian was much more than the average club groundsman, having two spells at the club.
His first spell at Thorneyholme Road was in 1978, the year he turned down the role of assistant groundsman at Taunton.
Following a career at Hyndburn Council, Ian retired in 2003 and began a second coming at Thorneyholme Road.
Ian was no mean sportsman himself, playing football in two spells for Accrington Stanley in the club's non league days and Nelson.
He was also a fine all round cricketer playing for YMCA in the North East Lancs League, where he held the record for most runs in a season, 786 in 1980 and the league's best bowling performance 10-6 against Haslingden 3rds at Mellor in 1979.
In a career spanning 20 seasons Ian scored over 8,000 runs, including eleven centuries, and he also took over 900 wickets.
Ian also played occasionally for Stop and Rest 2nds in the Accrington League and Lower Darwen in the Ribblesdale Junior League.
Along with his wife Margaret, Ian produced some brilliant Ground Diaries for the club website.
Initially the Diary chronicled the work of Ian and his team on the ground but the feature developed into a fascinating insight into the running of a local cricket club.
The club would like to wish Ian well on his retirement and hope his upcoming knee operation is successful and looks forward to seeing him at the club next season.
Ian's Ground Diary 2006
Ian's Ground Diary 2007
Ian's Ground Diary 2007 Busman's Holiday
Ian's Ground Diary 2008 Pt 1
Ian's Ground Diary 2008 Pt 2
Ian's Ground Diary 2008 Pt 3
Ian's Ground Diary 2008 Pt 4
Ian's Ground Diary 2009 Pt 1
Ian's Ground Diary 2009 Pt 2
Ian's Ground Diary 2009 Pt 3
Ian's Ground Diary 2010
Ian's Ground Diary 2010 Looking Back at 1978
Ian's Ground Diary 2012
Ian's Ground Diary 2013
Ian's Ground Diary 2014
Ian's Ground Diary 2015