Club Success at League Dinner
Saturday November 14th 2015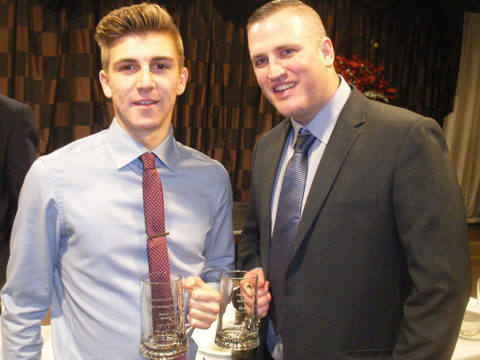 Jacob Clarke and Graeme Sneddon
©Nigel Stockley
The club enjoyed a good night at the Lancashire League's Annual Dinner at The Fence Gate Inn.
Accrington's Graeme Sneddon and Jacob Clarke picked up the Telegraph Tankards for batting and bowling. Accrington captain Sneddon hit the season's highest amateur score making 152 at Rishton on July 11th to join the club's only other winner of the Batting Tankard Mark Aspin (1986).
Clarke turned in figures of 8-35 at Todmorden seven days earlier to follow in the footsteps of Alan Worsick (1970), David Lloyd (1987) and Tariq Hussain (2005).
Former Accrington 2nd XI captain Duncan Warburton was named best umpire for the sixth time in the last eleven seasons.