Alick Ormerod (1937-2013)

Monday April 1st 2013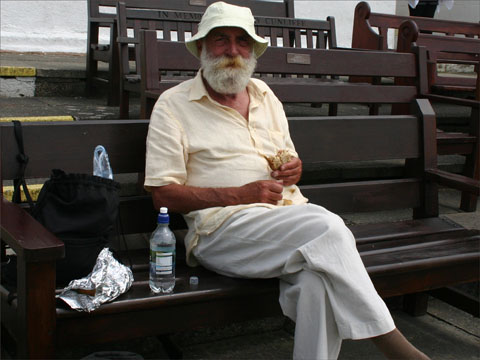 Alick Ormerod
Alick Ormerod has passed away after a brave fight against cancer.
There will be a private family funeral on Thursday April 11th.
However his family would like to invite all who knew him to a celebration of his life on Friday 12th April at St Mary's Chambers, Haslingden Road, Rawtenstall, Rossendale BB4 6QX from 2pm to 6pm.
There will be a brief non religious service shortly after 2pm but this is very much an informal celebration and any time you can come is fine.
Casual attire is also fine.
Family flowers only please but donations to Macmilan Cancer Support/and or Rossendale Hospice would be appreciated.
Alick was a player, official, writer, administrator and above all a cricket fan.
He passed his love for the game on to his son David, who played for Bacup and Accrington, his daughter Lindsay and grand daughter Kelsey both of whom he taught how to score.
Alick played for Whalley Road Congregational in the Accrington and District Cricket League in the 1950s.
In 1965 Accrington 3rd team captain Peter Westwell persuaded Alick to come and play at Accrington.
In 1968, Alick created a North East Lancs League bowling record for most wickets in a season with 93 at 5.9 each.
Alick took over as second team captain from Jackie Hope in 1971 until retiring at the end of the 1975 season.
He resumed playing in 1976 and played on until 1980 when he retired again.
Alick began umpiring in the Lancashire League, winning the Umpires Award in 1982 and from 1986-1989.
In 1983 Alick moved to Bacup where his son David resumed his career in the juniors.
Alick was 1st team manager at Bacup from 1990 until 2004 when he retired.
He returned home to Accrington with David in 2006 and two years later the club rose from the bottom of the pile to win a first ever league and cup double.
Alick was a lecturer in English at Accrington and Rossendale College before his retirement. He also did his National Service in Libya.
Alick leaves his wife Pam, first wife Pat, children Lindsay, David and Vember, step daughters Joanne and Francine, grand children Gemma, Kelsey, Holly, Alice and Nathan and his brother Ian a former Mayor of Hyndburn.