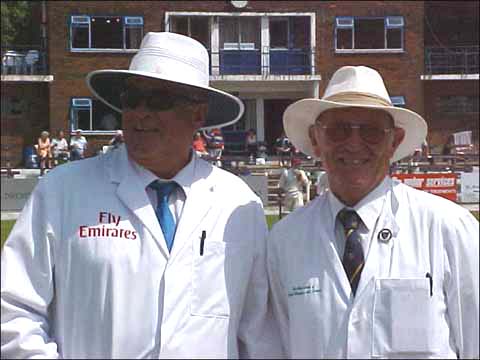 Test Umpire David Orchard with Walter at Rawtenstall in 2003
Former Accrington player and Lancashire League umpire Walter Wilcock has died at the age of 71 after a long illness.
Walter began playing in the Accrington and District Cricket League for Accrington 3rds in 1956. He joined Whalley Road Congregational in 1961, fulfilling the roles of opening batsman, wicketkeeper and captain with distinction. In 1976 he set a new league record of 352 runs in a season. In his career he scored more runs than any other batsman in the league's history. Walter retired from playing at the end of the 1993 season after scoring a record 4412 runs with twelve half centuries.
Walter then became a respected Lancashire League umpire and he also helped to run umpire's training courses for the next generation of officials.