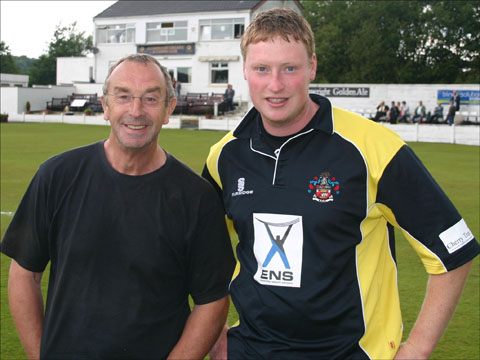 David Lloyd and Jimmy Hayhurst
Cricketing legend David Lloyd has been appointed as the new President for Accrington Cricket Club as the successor to Peter Barratt who sadly passed away earlier this year.

David, known to his fans as 'Bumble' has had a prolific cricketing career playing for Lancashire, England and of course, Accrington, as well as coaching the national team in the 90s. He is currently a much loved commentator, columnist and bestselling author.

Speaking of his new appointment David said:
"It was an honour to be approached to become the new president. I knew Peter very well and I know he has left some big shoes to fill and I intend to do my best to continue his legacy. I'm very much excited to get stuck in and help the club fulfil its potential. We're in a great position in the league and hopefully with the continued support from the fans we can go all the way this season."
Jimmy Hayhurst, Team Captain at the club added:
"It is fantastic for Accrington Cricket Club to have such a well-respected man such as David as president. He has already made his presence felt at the club and is very ambitious with his plans for the club in the future."

The club is in fantastic form this season and are currently sat at the top of the table with ten wins under their belt. The arrival of Ashar Zaidi, the professional for the 2011 season has really helped to boost the team and their performances - he became the first player to pass the 500 run mark this season.

To help pay off a debt owed to Thwaites Brewery, the club has developed a bond scheme to raise the necessary funds. Bonds are available to purchase at £1000, £500 and £100 paying interest at 2% per annum and are repayable after 15 years. For more information about the bond scheme please contact Steve Davies on 01254 382418 or 07780 517641.