Will Drives in for Accy

Friday August 14th 2009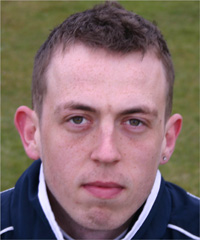 Will Driver
Accrington have signed Will Driver as professional for 2010 after deciding not to offer terms to current professional Roy Silva.
Twenty-year old Will has been professional at Manchester Association side Winton this season.
Will's time at Winton was cut short by a shoulder injury and he unlikely to play again this season. He scored 480 runs at 43.6 with three half centuries the best of which was an unbeaten 96. With the ball he took 29 wickets at 16.2 with a best of 5-44.
The record breaking former Read batsman had one season at Liverpool Road scoring 492 runs for Lowerhouse in 2008 at 23.4. He also picked up 21 wickets at 12.9.
Will has also acted as sub professional for Accrington twice this season. He played in the first match of the season against Rishton scoring 27 and taking 2-25 and he then made 63 at Rawtenstall in two early season victories.
Beginning his career at Read in the Ribblesdale League, Will burst on the senior scene in spectacular style by becoming one of the few amateurs to score 1,000 runs in a season in 2006, his 1023 runs smashing the Read batting record.
A Level 2 qualified Coach who will also act as Club Coach, Will is looking forward to his new challenge: "I'm absolutely delighted to be given the chance to play at such a great club. I thoroughly enjoyed my two games sub pro-ing, I feel I have a point to prove in the Lancashire League and I intend to do so. The opportunity to play alongside and learn off players such as Lloydy and Dibber is massive for me and also I would like to think I can help bring the best out of the talented players already at the club. With the talent in the squad I feel we could have a very successful season. Being injured at the moment means I will be raring to go once next season comes around and I'm very confident in myself and the team."
Roy Silva has had a disappointing second season at Accrington after helping the club to an unprecedented double last season. He has scored just 248 runs at 17.7 with a highest score of 42. With the ball, Roy has taken 20 wickets at 26.0 with a best of 3-29 in the 15 matches he has played since arriving late due to the new work permit regulations.