Magic in the air at Accrington

Tuesday November 18th 2008
Accrington Cricket Club has released a special DVD in celebration of the club's historic double winning 2008 season.
Introduced by David Lloyd the film entitled 'Magic in the air' is based around an intimate discussion looking back at the highlights of the season with skipper David Ormerod, Graham Lloyd, Damian Clarke, Paul Carroll and Chairman of Selection Alick Ormerod.
Team manager Ian Wilson profiles each of the sixteen players who played in the historic campaign with film clips and images of almost every game linking the highlights together.
The film lasts for just over an hour and the DVD ends with Channel M's edited highlights of Accrington's Worsley Cup Final triumph at Todmorden last August.
The DVD will cost £15 and will be issued to people who ordered a copy of the Worsley Cup Final.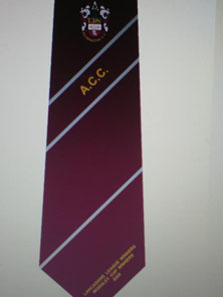 The new tie
A special club tie is also available to mark this historic occasion. This is priced at £12.75 plus postage.
If you want to buy a copy of the 'Magic in the air' or a special club tie please contact Steve Davies 01254 382418 or 07780517641.