1981 Completed Scorecard Archive

Monday May 26th 2008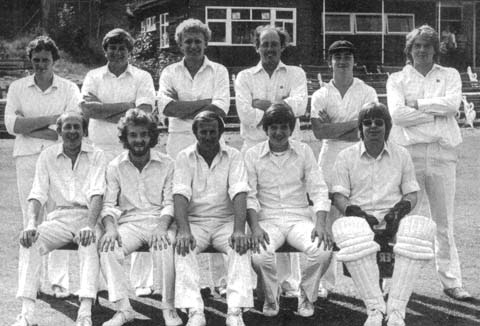 The 1981 team
The 1981 season is now complete in the scorecard archive.
1981 was a memorable season for Accrington and for the Lancashire League in general. Playing in the league this year were the famous West Indies fast bowling duo Andy Roberts and Michael (Whispering Death) Holding at Haslingden and Rishton respectively. Top Indian all rounder Kapil Dev was at Nelson, Enfield had his colleague Madan Lal and giant West Indian fast bowler Franklyn Stephenson played for eventual champions Rawtenstall. Accrington had much trouble in engaging a professional and had to settle for a New Zealander who was the club's fourth choice. Left handed middle order batsman and right arm leg spin bowler David Stead turned out to be one of the best professionals in the league. He scored 821 runs at an average of 43.2 and he took 79 wickets at 14.8 each as Accrington finished in 9th place with a total of 47 points. David was a marvellous worker for the club both on and off the field and it was a great disappointment at the club when he announced that he would not be able to return for the following season.

Snow
The 1981 campaign began in snow and was frequently interrupted by rain. In spite of the weather and the World Class bowlers operating in the league, Graham Beech had a magnificent season in destroying his own amateur batting record as well as many opposition attacks, Test stars or not. Graham raised his own record to 938 runs at an average of 46.9. He scored his first league century and nine other half centuries to create another club amateur record of 10 half centuries in a season. Beech's season began rather quietly. By the end of May, he had only scored one half century, against East Lancs (56). In June he added another four, against East Lancs (51 not out), Ramsbottom (54 not out), Kapil Dev's Nelson (61) and Church (59). In July, Graham came up against Andy Roberts and emerged on top, scoring 67 at Accrington. In the next home game, he scored his maiden league century, 111 not out against Bacup. The week after, Graham's encounter with Roberts saw him break his own amateur record of 677 runs, in his fine innings of 87. After scoring 68 against Lowerhouse, Graham faced Michael Holding at Rishton and emerged with 45 runs to his name. With five games remaining it looked odds on that Graham would become only the third amateur in league history to score 1,000 runs in a season. Graham now had 826 runs, but only managed to score 112 more, including 54 not out against Todmorden. Bryan Knowles of Haslingden did in fact score 1,050 runs in the season. Other players to emerge with credit in 1981 were Neil Jones (36 wickets), Ian Birtwistle (33 wickets) and Geoff Hayhurst (330 runs).